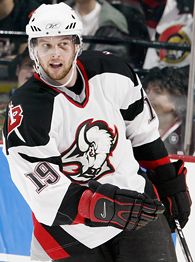 Ol' brittle bones himself! (I chose that picture only because of the humongous black eye, and this was before...you know. ):)
He's only going to play tonight if he makes it through the pre-game skate. A part of me hopes that he can, and the other part of me is indifferent to him playing period. The team hasn't missed him, but then again, it would be nice to see some creative play on the PP again. I guess we'll have to wait and see what happens with this one. Only about 40 minutes until the puck drops.
Now I am off to get ready to see a precious interview with Pie-eh on my TV screen. I didn't pay attention to it last week, and I didn't feel like watching the Sabres Show on the web this week, so it'll be my first time seeing the majority of it.
Song: The Underdog


Artist: Spoon
I see what you did there, Ryan.