I hope those who could vote today, did. (: I couldn't since I'm only 17 but I hope the guy I want to win wins.
In other voting news, the NHL has released who will be on the All Star ballot. Four of the Sabres have made the list:
Teppo Nu
mmine
n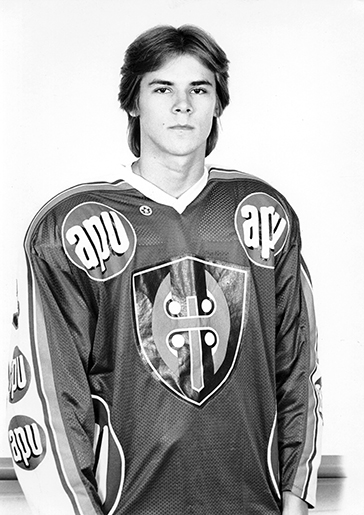 Thanks to Anne for originally finding this photo. Not so much Bono in this picture, but *whistles* Teppo was and is a fox.
Besides, Ye Old Faithful going for his 4th All Star game? Yay!
Derek Roy
Obligatory tongue picture. That tongue could be shown at the All Star game. My girlfriend would be happy. Cari from Sabre Chaser would be happy. The fashion industry would
be ecstatic.
Thomas Vanek
Do I even need a reason? At the Youngstars game two years ago, he was the only player to wave to the crowd. ONLY I WOULD NOTICE THINGS LIKE THIS FROM THE MAN HIMSELF. Waving to the crowd = A+.
I think the two that really have a chance of getting in are Ryan and Thomas. If they could only sneak one Sabre in, I would see Thomas getting the nod, but the All Star game is still about two and a half months away. Things could quite possibly change. All four of them getting in would be super sweet - as a Sabres fan, I am urging you to vote vote vote for our boys! Get some write-ins in there too. They need our support for the starting lineup!
Oh, and what's this I hear about Ryan Whitney and Sergei Gonchar still getting on the ballot? I don't even know what to say about that.