It's true. After reading about that whole incident yesterday after the Sabres loss to the Sens on Monday, and then reading what Mairsy
had to say about it
this morning made me think 'Why haven't I've paid more attention to him before now?!'
I know that him and his wife are big supporters/helpers with the SPCA (an animal lover? A man after my own heart!), so that gets a big A+ from me. I love a man that can take care of animals and help them survive after being abandoned and abused. He fights for their rights just like fighting on the ice for the Sabres (and putting one in the back of the net every once and awhile).
I love that he was being a smart ass in his interview this morning. It shows he can make light of a situation such as the one he was in. I love guys that can make a situation light hearted.
Oh Adam,
There are so many things I could say to you. I have a picture of you on my wall; sitting next to Goose (or positioned next to him) for your 'Kids Escaping Drugs' poster. I will now glance over it every time I get the chance to, or when I leave my room. I may have to keep an eye out on you a lot more often now when you're playing. Of course, you cannot turn into my favorite Sabre because one of your teammates still has a tight hold on my heart. The blond hair, the blue eyes, the sort of longish hair that sometimes curls under his helmet as he skates along the ice...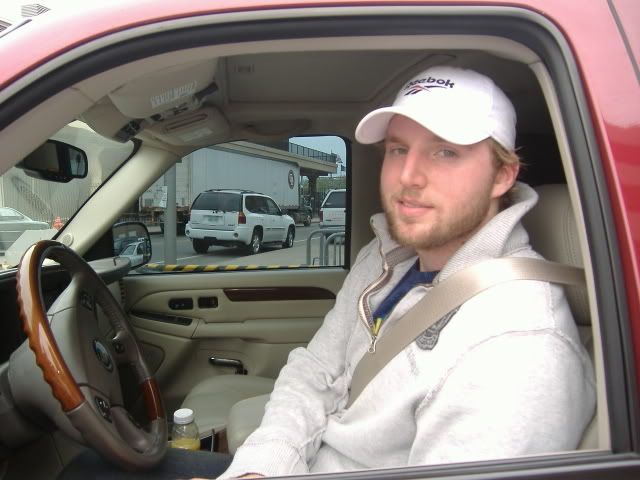 *sighs* Hello. Is that orange juice in your car? Can I have some if it has Thomas Vanek backwash in it?
No?
Damn.
Anyways, you see my dilemma here. Besides, M.J. over at My Safety Is Harvard would not appreciate me busting a move on you, so I will have to decline your utmost love...but you will move up my list of favorite Sabres.
Love,
Shelby
Oh yeah, and about me liking blond hockey players, it's no joke. Thomas Vanek, Adam Mair, Tyler Ennis (I have a mad crush on the guy), Jordan Staal, Tim Kennedy (he sort of has blond hair, right?!), and the list could go on. Then again, while I like the blond hockey players, my girlfriend has brown hair. Yeah, I guess blond is strictly for the hockey players.