Before I talk about my studdly fantasy hockey team, if you didn't watch or hear the Sabres game tonight, then shame on you. I actually had the option of going with
Tamara
to the game in Toronto, but my lack of a passport or enhanced license hinders me from that option. So she went with
Caroline
, and I'm sure the both of them had a ton of fun representing. (:
I had been coming home from my brother's house after the awful Bills game and turned on the radio. At that point it was only 1-0, and I managed to listen to the rest of the ridiculous shananigans going on for the rest of the game. 7-6! I find that crazy for a preseason game, but then again, two years ago wasn't the score like 7-2 against the Leafs at their arena?
I think Tim Kennedy and Nathan Gerbe are now making it tough to send them down. They both scored tonight and had two goals a piece in the preseason, so it'll be interesting to see the cuts this week. I'm quite excited. Now that the preseason is over it means that real hockey is just around the corner!
-------------------
Earlier today, I fit into one of my friend's leagues for fantasy hockey. I was so worried I wouldn't get in one this year because I had been in some for the past two years. I love waking up every morning to set up teams before I head out for the day. I was in the middle of drafting when I had to leave for my brother's but my team didn't turn out too badly?
The lineup:
Left Wingers
Thomas Vanek
Studdly left winger number one is obvious. Thomas Vanek is the man. He will bring me power play goals, and hopefully his assists will go up as well this year. I am also biased and drafted him first, 7th overall. I drafted him lower than he was actually drafted, forgive me dear sir. Either way, he is my go to man.
Alex Burrows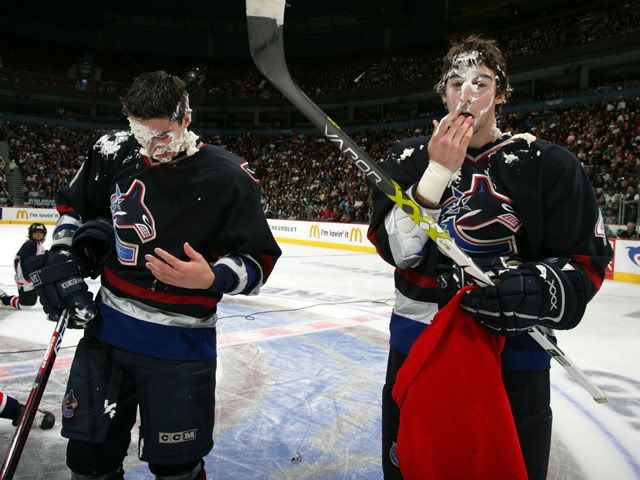 Studdly left winger number two is Alex Burrows. He was one of the best friends of Luc Bourdon (may he rest in peace). Do you remember when he threw Derek Roy under the Vancouver bench last season? I do. Good times. The fact I watch the Canucks and don't know much about him is sad, but Wikipedia is telling me he's more of an agitator than anything that has an offensive upside to him. I've seen some of his fights so this is good.
Tuomo Ruutu
Studdly left winger number three is Tuomo Ruutu. He plays for the Carolina Hurricanes. He apparently got stepped on with a skate on his face and it had gotten screwed up. The pictures I have seen are frightening. I think he's kind of an agitator like his brother Jarkko, but also has an offensive upside like Alex Burrows.
I actually decided that I'm going to split this up because it would be a huge post, so tomorrow...the Scandinavian Studs centers!