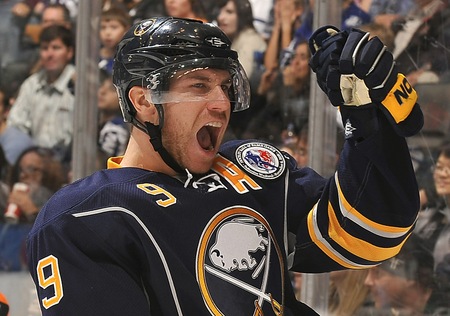 I've been thinking about Derek Roy a lot the past few days.
As most of you are aware of, I'm not a particularly huge fan of the 5'9" center straight out of Ottawa, Ontario. I nitpick everything he does on the ice and don't give him enough credit, which most people don't seem to be doing anymore. Roy was on a career pace last season in every category across the board before he went down with his injury. It was also Roy who came back for Game 7 of the Flyers/Sabres series last year - not at 100% - because he wanted to try and help his teammates. I was actually extremely excited when he came back and was hoping maybe he could get a point or anything to help the team but to no avail. This year, he is the center of discussion when trade is brought up and hasn't played up to par this year.
Why am I thinking about this so much?
My brother Corey and I had a discussion with
Nick Mendola
on Saturday evening about the Sabres (mainly general thoughts) and Roy came up. Nick mentioned several of the points I made note of above, and that's when my brain really began churning. Perhaps I tried too hard to look for flaws in his gameplay because I don't respect the type of person he is. My big issue with athletes is that I judge them first on personality, and secondly on hockey skills. I got lucky with my favorite player being kind of good at hockey and from multiple things I've read, he has a good heart too. If you peruse through Roy's Twitter, he kind of comes off as a douchebag for the lack of a better term. I've heard several stories from female friends about how he acts towards women in public. He is clearly a womanizer. We've all seen the drunk photos that are plastered all over Google. I just have no respect for the type of person he comes off as and that's probably why I've disregarded how well he can play for so long.
This season isn't going well for a lot of guys who aren't named Thomas Vanek or Jason Pominville. Roy is third on the team in points with 25 in 49 games. 9 of those points are goals. Last year, he had 10 in 35 games before his season ended shortly. Actually, he was on a point-per-game pace last season. How much of the Sabres disastrous season's blame can you place on him? Not all of it - or at least, he doesn't deserve all of it. As a whole, the team really fell apart after the Lucic hit on Miller which has been discussed a million times by vast amounts of media outlets and even just blogs. Roy is one of the top guns who we should be looking at to score the big goals but he hasn't been doing it. Drew Stafford hasn't been doing much of it either. Before Vanek's injury, he had one goal in ten games. Pominville has been particularly the steadiest out of every player on the team but he's also played every game. We shouldn't be going around pointing fingers because I think everyone on the team has a part to play in this season going down the drain. It's not over yet, though. I have a good feeling that the core players are really going to step into their roles in this post-All Star break if their recent play has anything to show for it. Last night's game, while they lost, was a sign of hope that maybe they believe this season isn't over yet. We have to believe that, too.
So Derek, I'm sorry about being so hard on you these past few years. Go out there and help give this team something to believe in again.